Drinking water is a human instinct, something all babies know to do, but don't know how to do. All babies are unique and will progress from bottle-feeding to their first sippy cup, independent drinking, and open cup drinking at their own pace. All the while, babies are getting new teeth, making this process difficult and sometimes painful. We considered tooth order closely when developing the Dental-Care Sippy Cup, designing a unique straw, with a "small wing" to help baby uniformly distribute the applied force while they are sucking. This novel approach helps to reduce the pressure on each tooth and the jaw, so that
First & Only Health Teeth Protect Design
Little wings were added to the nipple, helping baby to uniformly distribute applied force while sucking, which can help protect new teeth and allow them to grow in naturally.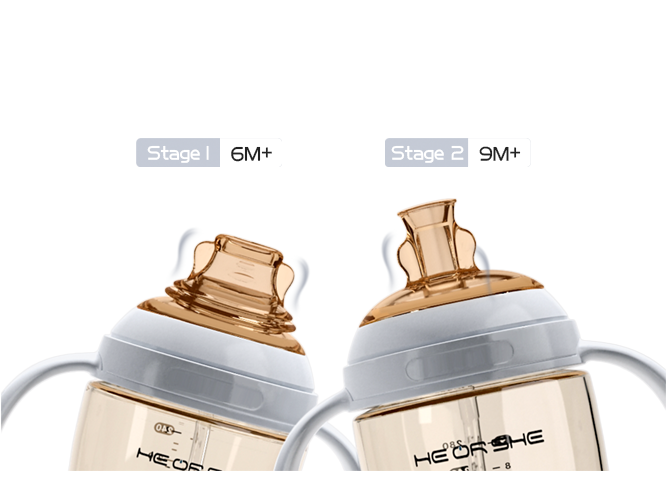 Grip and Feed Design Themselves
The 360°weighted straw follows the liquid, allowing baby to latch and feed in any comfortable position. The unique weighted straw allows for doctor recommended upright feeding, helping to reduce reflux. 3D-fixxed position handle is easy to grip.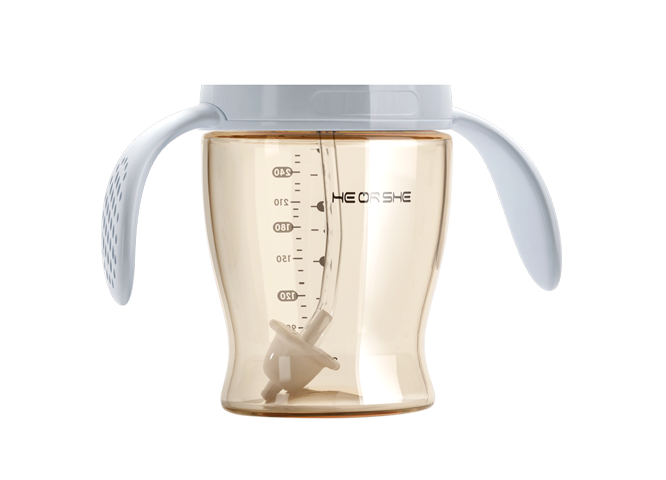 Dual-Vent Anti-Colic Nipple Valves
The bottle features advanced dual-vent anti-colic valves to help prevent ingesting air.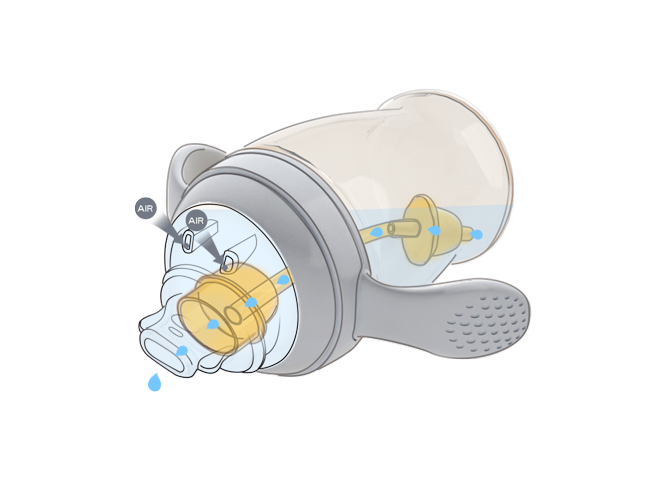 Features:
Ideal to help with the transition from bottle to cup
Comes with a Stage 2 Spout for 9 months onwards
Designed to help reduces intake of gas, a potential cause of colic or spit up.It only lets liquid out when the baby sucks
Allow to feeding in any position
Spout is 100% silicone, soft, flexible and designed for optimal compression
Easy to assemble and clean
9oz/280ML, Stage 2 Spout for 9 months onwards.
PP,BPA free
Microwave and Top rack dishwasher safe
Product Note:
Heorshe Dental Care Sippy Cup - 9oz / 280ml is only compatible with Heorshe Dental-care Sippy Cup Stage 2 Spout (9M+) BUY HERE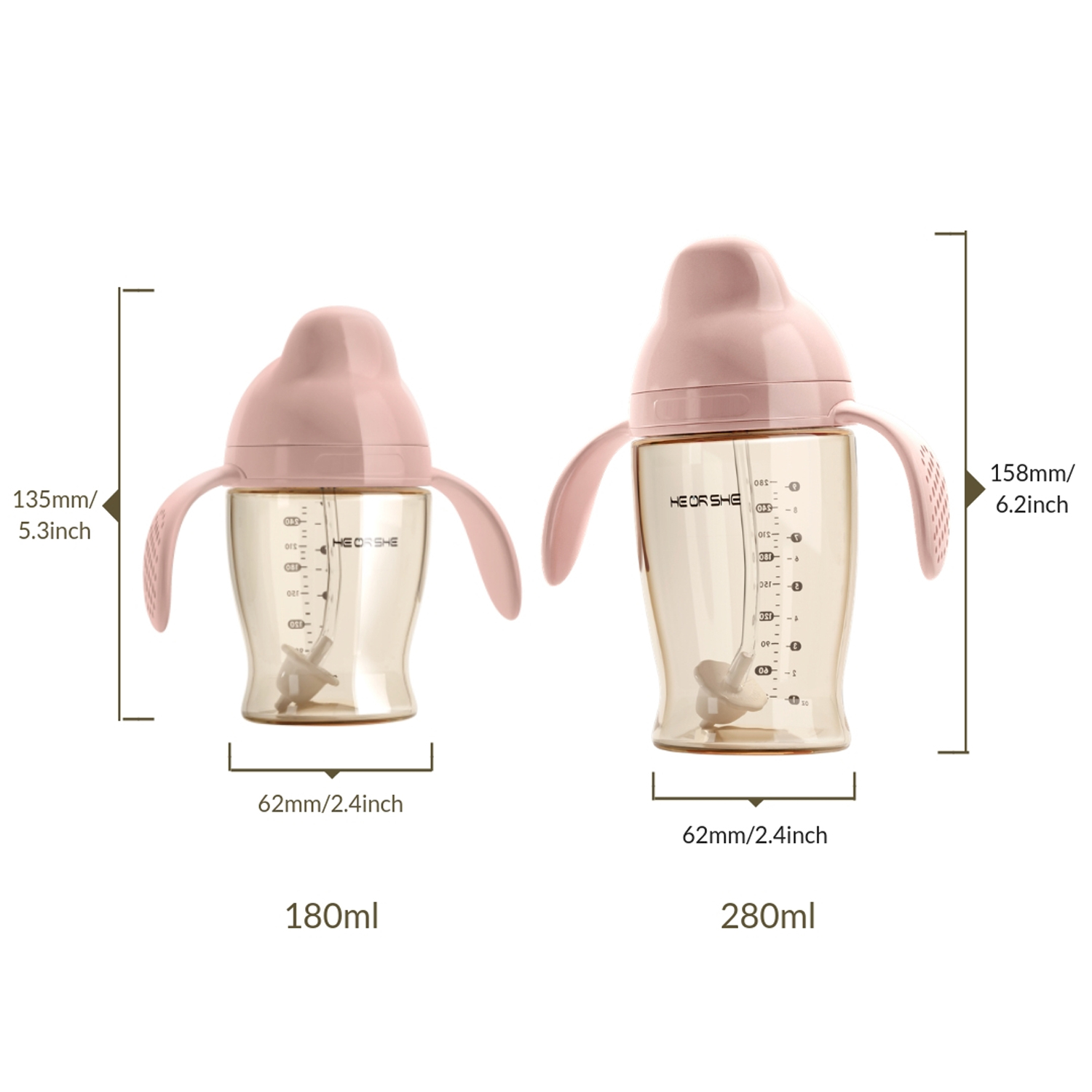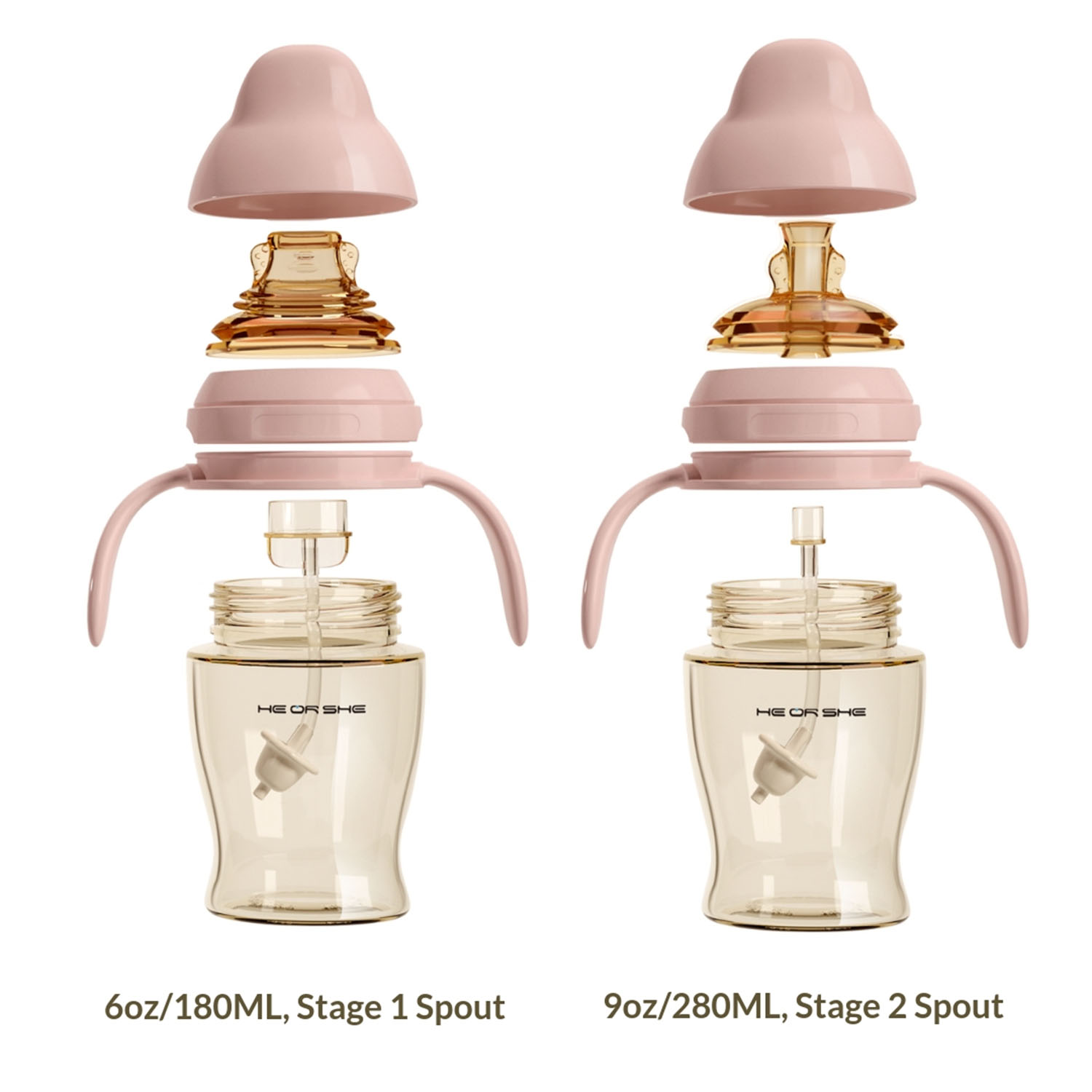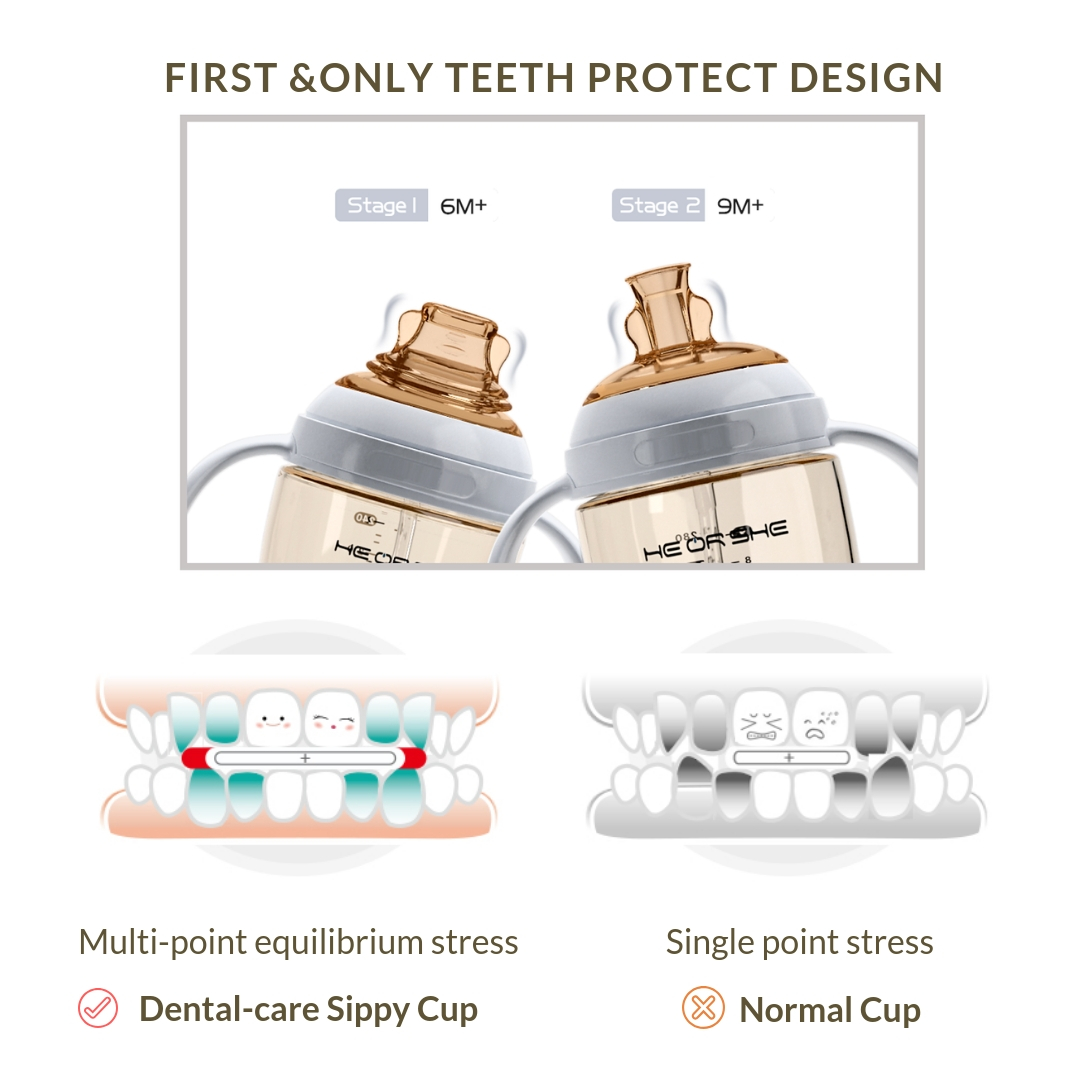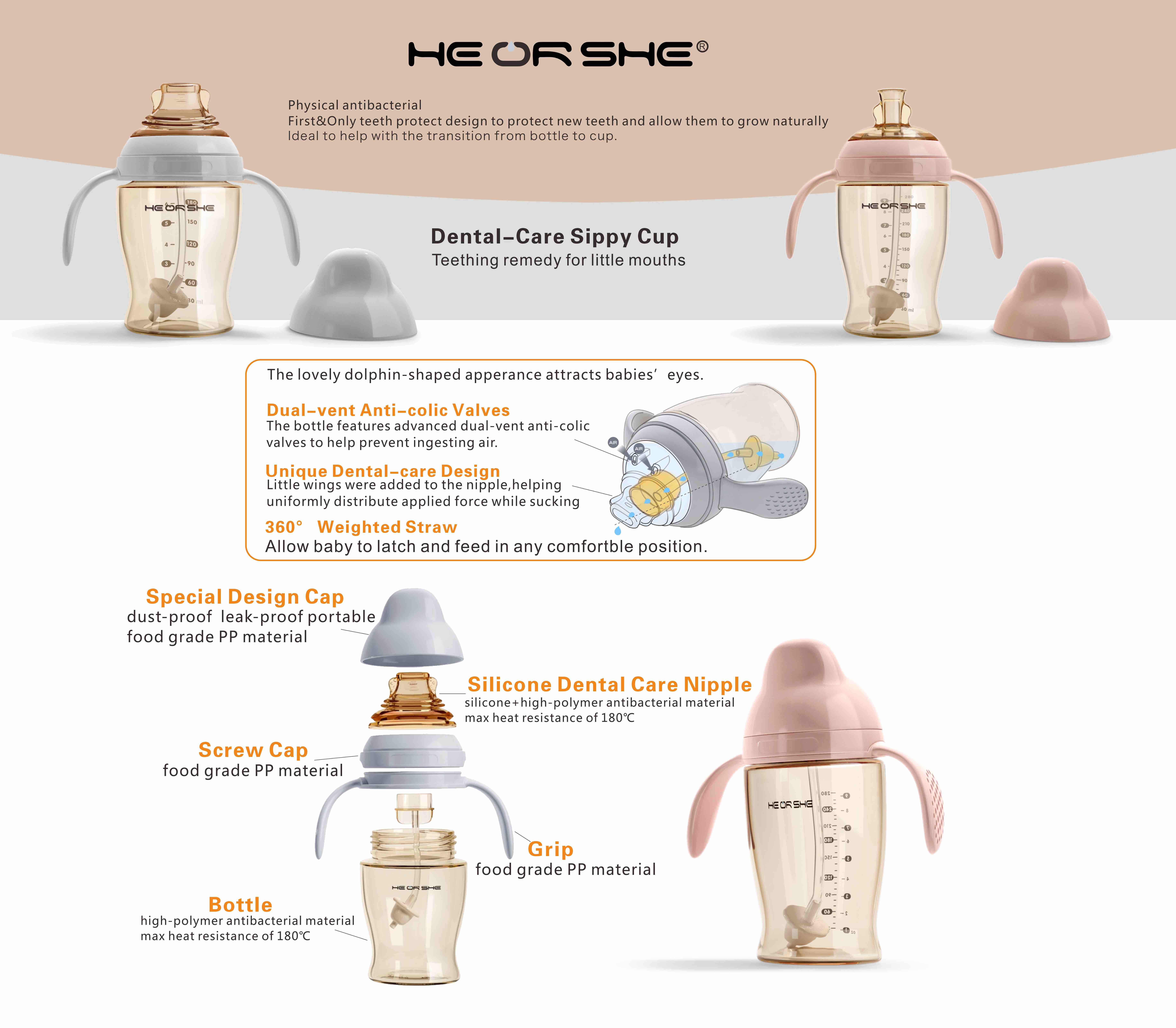 Will it be a bouncing baby boy? -OR- Will it be a beautiful baby girl?
HE OR SHE was inspired by wishes for our unborn baby. Even before we know if they will be a boy or girl, we have hopes and dreams for them.
You may have dreamed of helping her put on Barbie's dress or helping him assemble his new model car. Either of these realities would be unique and wonderful! You wonder, who will they be? Amidst all your hopes and dreams for HE OR SHE, one thing is certain; you expect them to grow up healthy and happy. Boy or girl, each will receive unreserved care and affection from the parents.
Designed to express the love an joy and give the baby best protection, HE OR SHE revolutionary, antibacterial and multifunctional bottles encourage a happy, easy and healthy feeding lifestyle.
All products of HEORSHE are BPA-free, 100% of which can be safely used. All raw materials have been certified by international authorities.

Shipping Cost per Unit Classification: Tier 1
Please refer to Terms of Service to see how total shipping fee is computed.