Built with cutting-edge AI technology, Luka® the reading robot, reads aloud books put in front of him, page by page, in any order. Luka® is a fun interactive reading companion, which helps kids to develop their reading skills in an engaging way, and makes kids fall in love with their very own books by adding another dimension to the reading experience.
Luka® can recognize over 20,000 English picture books and 70,000 Chinese titles (and counting!). Besides those books in Luka® Cloud Library, you can also read and record any picture books by yourself, and Luka® will be able to read books in your voice.
Recognizes over 20,000 English and 70,000 Chinese picture books (and counting!).

For books that Luka does not read, teachers and parents can record their own voice.

Points to read single Simplified and Traditional Chinese characters

Points to read English words and sentences

Reads and repeats English words

Plays music, nursery rhymes and audio stories.

Interacts with children in Mandarin Chinese.

Plays games.
Luka® Hero's Additional Functions:
Read and repeat function
Point and read function:

Luka reads a Chinese or English word just by putting your finger under the word in English or Chinese

Real-time switch between English and Chinese

Voice Command Control

LED Screen / Eyes
Luka® Hero Set Includes:
Luka® Hero
Luka®'s original picture book
Luka®'s original flashcards x50
Luka®'s original alphabet flashcards x26
Cambridge English Reading Adventures books x18 (endorsed for reading by Cambridge Assessment International Education)
Luka® portable charging station
Luka®'s planet play mat
Luka® Silicone Cover for added protection

Reading with Luka® empowers children with better vocabularies and communication skills, in both English and Chinese.

Reading stories aloud broadens children's imagination and instills creativity.

Luka® reads aloud to children and gives them a clear starting advantage when they're learning to read.

Luka® is amazing.
Luka® reads tens of thousands of English and Chinese picture books. Books that you already own, without the need to buy specific books.

Luka® is so easy to use.
Luka® recognizes a book from its cover and starts reading it aloud at the flip of a page.

Luka® always has time.
Luka® is of course, no substitute to your reading time together. But he's always there to encourage your children to read when you are busy with work and other chores.

Luka® is engaging.
Luka® reads out loud with a natural human voice.
Luka® is versatile.
Luka® is able to play many pre-recorded audio books using the Luka® App. You can even record a book in your own voice and Luka® will read it out loud.

Luka® is always upgrading.
Luka® is constantly improving its functions, and adding new books to his cloud library every day.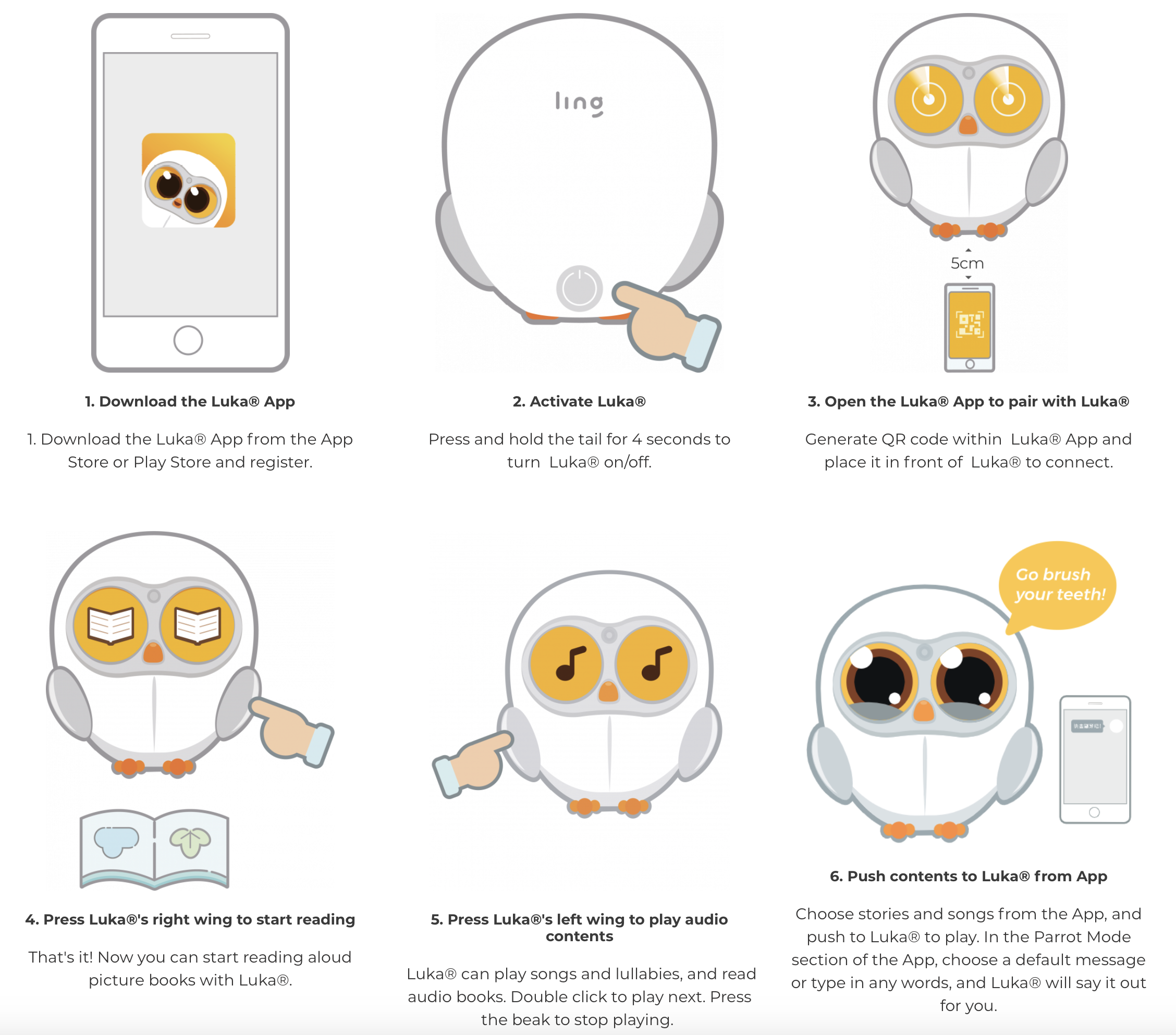 Shipping Cost per Unit Classification: Tier 3
Please refer to Terms of Service to see how total shipping fee is computed.