Purchase the Gelai Bundle for P1,999.00 and save P91.00. The Gelai Bundle includes the following:
Haakaa Gen 2 Silicone Breast Pump 150ml

Gelai Mama Native Tsokolate Milk




Norinse Bath Wipes

No Rinse Shampoo 8 fl. oz
HAAKAA GEN 2 SILICONE BREAST PUMP 150ML
The world-famous Haakaa Breast Pump has been reinvented yet again! The New and Improved Haakaa Silicone Breast Pump now comes with better suction, and just like before, it is still the easiest and most simple way to express.
Made from 100% food grade silicone, this compact pump is perfect for long distance trips, planes, car rides, family BBQ's or anywhere you would like to discretely express silently and quickly. Simply suction to your breast and let the pump do the work for you as it draws your milk using suction. 100% eco-friendly and safe for mum, baby and our environment.
What's New:
Lip on the flange that helps create a stronger suction. This is ideal for moms who prefer stronger suction to draw out milk (Those who prefer a more gentle suction can simply squeeze lightly at the bottom of the Haakaa Pump when they attach it to their breast).

A guide and a provision to correctly position the nipple when in use.
Features:
Perfect for traveling.
Especially soft and comfortable - made from 100% food grade silicone.
Fits perfectly into any handbag or baby bag.
Easy to use, easy to clean.
BPA, PVC and Phthalate free.
No cords, batteries or assembly required.
150ml capacity.
Suction base ensuring your pump will not fall over meaning no spills!
Haakaa Lid, Flower Stopper and Silicone Pump Cap Sold Separately.
Haakaa Breast Pumps are Patented Designs. Patents numbers below.
ZL201630596059.1
003496561-0001
ZL:29/586,291
How to use your breast pump:
Sterilise your pump (caps are available online to purchase – caps keep the pump sterile after cleaning)
Place top of pump over your nipple – make sure your nipple is in the neck of the pump and comfortable.
Apply suction – you may need to adjust a couple of times. Once the pump is secure and comfortable, you can squeeze the base of the pump (not interfering with the top/suction) to create some movement.
A warm flannel on top of your breast is also a great tip and gently massage the top of your breast.
Once milk begins to flow, simply leave the pump alone to do its thing.
Once the pump becomes full, empty into a glass storage bottle and reposition.
If the pump is full or you wish to stop pumping – simply suction the suction base to the table next to you while you finish your feed or re dress and the pump is 100% secure.
Also attach in the same way while your child is feeding on your other breast and collect all let down and milk which would otherwise be lost into a breast pad.
Waking up in the middle of the night or if engorged during the day, you can also attach your pump for relief.
CLEAN AND CARE:
We strongly recommend cleaning and sterilising your Haakaa Breast Pump with any steam sterilising system or by boiling in water for 2-3 mins.
There is no need to sterilize after each use. Frequent expoure to prolonged period of heat can impact the lifespan of the product.
Do not use any bleach-based agents or sterilising tablets to clean this product.
Instead, we recommend using a gentle baby bottle and dishwashing soap.
Do not use UV sterilisers to clean this product as it may impact the lifespan of your pump.
Any Haakaa, once item has been washed, sterilized or used - item can't be returned.
GELAI MAMA NATIVE TSOKOLATE MILK
Congratulations on your new bundle of joy and welcome to the joys of motherhood! After giving birth, mommies' bodies are still tired and exhausted from labor, but moms don't have the luxury to relax as new born babies can have very demanding feeding behaviors and sleeping patterns. It is essential that new moms recover and heal fast to be able to keep up with their new babies' needs. To aid them in regaining their strength and health, we are introducing Gelai Mama's new and innovative products to support them and help new moms in their overall recovery and well-being.
Gelai Mama's Native Tsokolate Milk is made from native cocoa and blended with skimmed milk for a delightful and creamy brew. This superfood enriched beverage is especially crafted for new moms to aid in post-natal recovery.
With active ingredients such as cocoa, malunggay, goji berry, ginger, grapeseed, inulin fiber and chili among others, this is a truly beneficial must drink for moms in their Gelai or postpartum recovery plan while also of great benefit for lactating moms at the same time. With a luscious and rich texture, this Native Tsokolate Milk is truly Yummy and Healthy, all in one package!
Hand-crafted product made of natural ingredients:
Cocoa: improve mood and symptoms of depression

Grapeseed Extract: high in antioxidant, improves cardiovascular health, enhances wound healing and appearances

Malunggay: nutritious, rich in antioxidants, aids in milk production

Chili: promotes blood circulation, helps clear fluid retention, helpful in weight loss

Inulin Fiber: helps relieve constipation, increase helpful bacteria in colon

Stevia: healthier alternative to sugar

Ginger: anti-inflamatory functions, reduces stress and improves brain functions

Goji Berry: improves sleep, aids eye problems boosts immune system.
So to all you new mommies out there, this is the postpartum recovery drink you need and have been waiting for. Give it a try now!
DIRECTIONS:
Empty sachet in to cup. Pour in 200ml of hot to warm water. Stir and Enjoy!
May consume up to 2 sachets per day
PACKAGING:

10 sachets in box. 21grams per sachet
FAQs:
Is this made from natural ingredients:
Yes, the herbal active ingredients are all natural
Can I drink this after my gelai period of 1 month?
Yes, Gelai Mama can still aid in your lactation and milk production
What does it taste like?
It tastes like your hot tsokolate mix brewed straight from the batirol.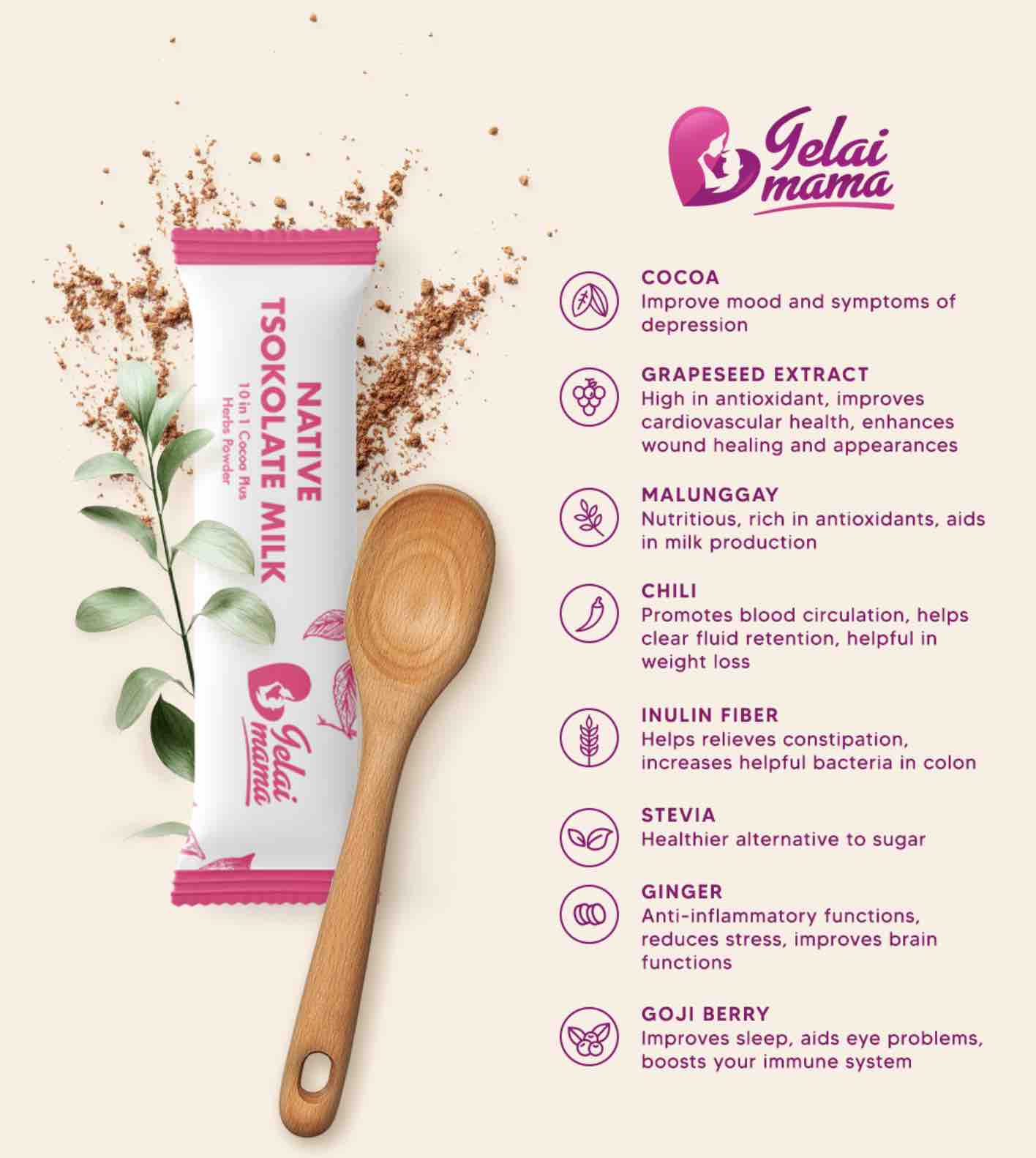 NORINSE BATH WIPES
One pack provides a complete bath
(8 wipes)
No water necessary
Ready to use 8" x 8" cloths
Aloe & Lanolin enriched
Alcohol Free
Cleans and deodorizes
leaving skin refreshed and odor-free
Saves time and resources
Can be warmed in microwave
NORINSE SHAMPOO - 8FL. OZ
No Rinse is ideal for moms during the confinement month, children, travelers or for anyone where rinsing is difficult.
Developed for the NASA space program, the No Rinse Shampoo has been used on the space shuttle Atlantis and in the international Space station. It is also used by many for camping / outdoor survival and in the healthcare industry.
Massage the NoRinse liquid into the hair and thoroughly towel dry. Grease and dirt are lifted into the lather and removed with the towel.
Ready to Use:
Completely cleans hair without water
Absolutely no rinsing is required
Just apply, massage to lather, towel dry and style
Hospital tested and approved
No alcohol means no dryness
The ingredients in No Rinse Shampoo produce a cleansing action that leaves hair fresh, clean and odor free
pH blaanced
Beautiful Results:
Customers trying No Rinse Shampoo for the first time are surprised and pleased with the cleanliness of hair and scalp after one use. Hair becomes silky soft and easy to comb and style.
Mild & Gentle:
Users with the most delicate skin fin No Rinse non-irritating. Even with frequent use, rinsing is never required.
Convenient:
It is easy. When shampooing, just apply, massage, towel dry and style. Shampooing can be done almost anywhere even sitting in an easy chair.
Shampooing or bating with No Rinse eliminates the inconvenience of rinsing. It allows everyone, regardless of condition to conveniently and efficiently maintain good personal hygiene without using water.