FEATURES:

Body Temperature
Surface Thermometer
Fast and Accurate Temperature Reading within 2 seconds
Energy Saving Mode; automatically turns off the the unit after 10 seconds
Product comes with a carry on pouch
TWO WAYS TO CHECK TEMPERATURE:

For forehead temp checking ensure it's 3 to 5cm from forehead and ask the person to wipe their sweat off.
Inner wrist temperature check where the veins are. 3 to 5cm distance. The reading should vary plus or minus 0.2 max from forehead (we find this less awkward for either party when temperatures are being checked). Also this is the fastest way to do high volume traffic.
WHEN MEASURING BODY TEMPERATURE: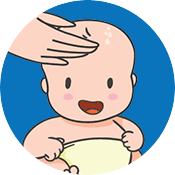 1. Push the Hair Aside
Before using the ProMED non-contact infrared thermometer, make sure that your baby's forehead is not obstructed by hair. Use a tie to keep their hair from falling on their forehead. If your child's hair is not long enough, clip it to the side instead. This will keep anything from possibly hindering the device from measuring the infant's temperature properly. Should that happen though, the thermometer will display the message 'LO'.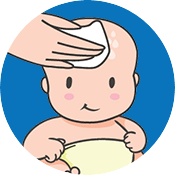 2. Wipe the Sweat
For the ProMED non-contact infrared thermometer to work properly, it requires a dry surface. If you find that your baby's forehead is damp, then wipe it away with a towel and not just with your hands. This will ensure that any form of moisture is truly gone. If the message "LO" appears, then recheck for anything that could possibly obstruct the thermometer's readings.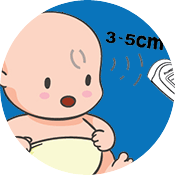 3. The best distance measurement is 3-5cm
The ProMED non-contact infrared thermometer is built to take a person's temperature from a certain distance only. For accurate results, press the On/Scan button and aim it 3 to 5 cm from your baby's forehead. The device only needs 1 second to take your baby's temperature. Once it is done, you'll hear a beep and you'll see the measured temperature in the LCD panel. If you aim the device farther than the required distance, the 'LO' message will appear on the panel instead.
TECHNICAL SPECIFICATIONS:

Operating Temperature: Ambient temperature 10 degrees Celsius to 40 degress Celsius
Measurement Range: Body Temperature - 32C - 42C / Surface Temperature - 1C to 100C
Precision: Body Temperature mode +/-0.2C
Power: 2pcs AAA batteries
Measurement Distance: 3-5cm
Size: 130.68 x 37.69 x 36.16mm
Weight: 110g
Warranty: 30 days Reseller Warranty
Shipping Cost per Unit Classification: Tier 2
Please refer to Terms of Service to see how total shipping fee is computed.