This is the perfect combo for new moms! The Hushh will help the baby sleep so that the mom can have some time to rest and use Haakaa!
The Sleep and Feed Bundle comes with:
1pc Haakaa Gen 2 Silicone Breast Pump 100ml
1pc Yogasleep Hushh Compact Sound Machine
Haakaa Gen 2 Silicone Breast Pump 100ml
The world-famous Haakaa Breast Pump has been reinvented yet again! The New and Improved Haakaa Silicone Breast Pump now with better suction, and just like before, it is still the easiest and most simple way to express.
Made from 100% food grade silicone, this compact pump is perfect for long distance trips, planes, car rides, family BBQ's or anywhere you would like to discretely express silently and quickly. Simply suction to your breast and let the pump do the work for you as it draws your milk using suction. 100% eco-friendly and safe for mum, baby and our environment.
What's New:
Lip on the flange that helps create a stronger suction. This is ideal for moms who prefer stronger suction to draw out milk (Those who prefer a more gentle suction can simply squeeze lightly at the bottom of the Haakaa Pump when they attach it to their breast).

A guide and a provision to correctly position the nipple when in use.
Features:
Perfect for traveling.
Especially soft and comfortable - made from 100% food grade silicone.
Fits perfectly into any handbag or baby bag.
Easy to use, easy to clean.
BPA, PVC and Phthalate free.
No cords, batteries or assembly required.
100ml capacity.
Suction base ensuring your pump will not fall over meaning no spills!
Haakaa Lid, Flower Stopper and Silicone Pump Cap Sold Separately.
Haakaa Breast Pumps are Patented Designs. Patents numbers below.
ZL201630596059.1
003496561-0001
ZL:29/586,291
How to use your breast pump:
Sterilise your pump (caps are available online to purchase – caps keep the pump sterile after cleaning)
Place top of pump over your nipple – make sure your nipple is in the neck of the pump and comfortable.
Apply suction – you may need to adjust a couple of times. Once the pump is secure and comfortable you can squeeze the base of the pump (not interfering with the top/suction) to create some movement.
A warm flannel on top of your breast is also a great tip and gently massage the top of your breast.
Once milk begins to flow simply leave the pump alone to do its thing.
Once the pump becomes full, empty into a glass storage bottle and reposition.
If the pump is full or you wish to stop pumping – simply suction the suction base to the table next to you while you finish your feed or re dress and the pump is 100% secure.
Also attach in the same way while your child is feeding on your other breast and collect all let down and milk which would otherwise be lost into a breast pad.
Waking up in the middle of the night or if engorged during the day, you can also attach your pump for relief.
CLEAN AND CARE:
We strongly recommend cleaning and sterilising your Haakaa Breast Pump with any steam sterilising system or by boiling in water for 2-3 mins.
There is no need to sterilize after each use. Frequent expoure to prolonged period of heat can impact the lifespan of the product.
Do not use any bleach-based agents or sterilising tablets to clean this product.
Instead, we recommend using a gentle baby bottle and dishwashing soap.
Do not use UV sterilisers to clean this product as it may impact the lifespan of your pump.
Any Haakaa, once item has been washed, sterilized or used - item can't be returned.
Yogasleep Hushh
Hushh is a portable electronic sound machine designed to help baby fall asleep and stay asleep anywhere. The Hushh cradles your baby in soothing sound to create a comforting, consistent sound environment for sleep.
Hushh Helps Baby Fall Asleep – and Stay Asleep – Anywhere. A white noise machine is a powerful tool in your infant sleep routine and helps baby fall asleep fast and minimizes sleep disruption from the outside world. It creates a constant, soothing sound that helps lull your baby to sleep by mimicking the sound of the womb. Once the baby is asleep, white noise works throughout nighttime or naptime to drown out the random noises that would have disrupted their precious sleep. The Hushh's baby-friendly features like a soft LED night light, flexible clip, and child-safe locks have made it a parenting must-have and popular registry item. Now, with Hushh, our portable baby white noise machine, we've made white noise even more convenient -- so you can take a familiar and comforting sleep sound with you wherever you go!



EFFECTIVELY MASKS NOISE: Beloved by generations since 1962, Yogasleep by Marpac is the trusted leader in white noise machines, and created our signature sound – the soothing ambient sounds of rushing air. That sound that's helped millions experience better sleep for generations is now available in this light and portable design for babies. The Hushh effectively cancels out noises that may disturb or distract for improved sleep and soothing.
3 SOOTHING SOUNDS & NIGHT LIGHT: Choose from bright white noise, deep white noise, or gentle surf, then set your volume - anywhere from whisper-quiet to impressively robust. Hushh lets you take control of the sound environment, excellently masking background noise and allowing for better sleep and effective soothing for kids and babies. A gentle amber LED Night light provides just enough light to see by without causing wakefulness for parent or baby.
COMPACT & PORTABLE: At just 3.5" in diameter and 3.8 ounces, Hushh fits easily in a diaper bag or backpack and comes with a baby-safe clip for easy fastening to a stroller, car seat, or crib.
SIMPLE TO USE & CHILD SAFE: Forget batteries and electrical outlets - Hushh can operate 4+ hours on a single charge, and comes with convenient USB cable for recharging. The simple interface is easy to use and operate with one hand and Hushh offers the ability to lock at a desired setting and volume to prevent younger hands from altering the sound or turning the unit off.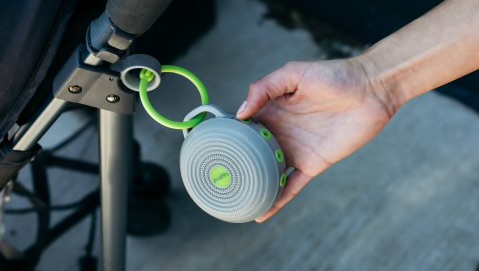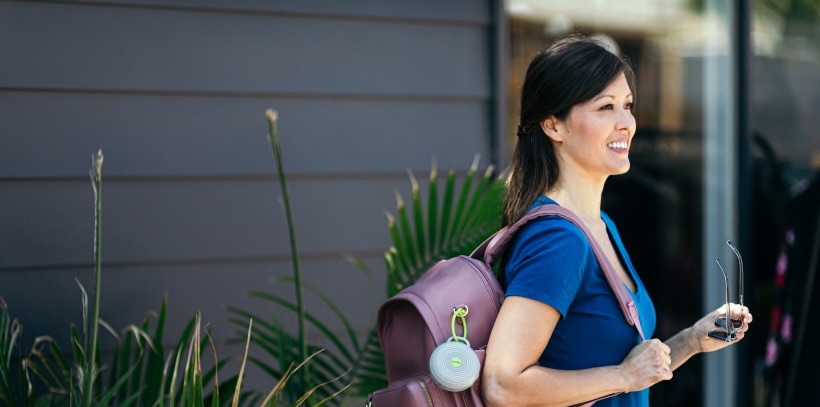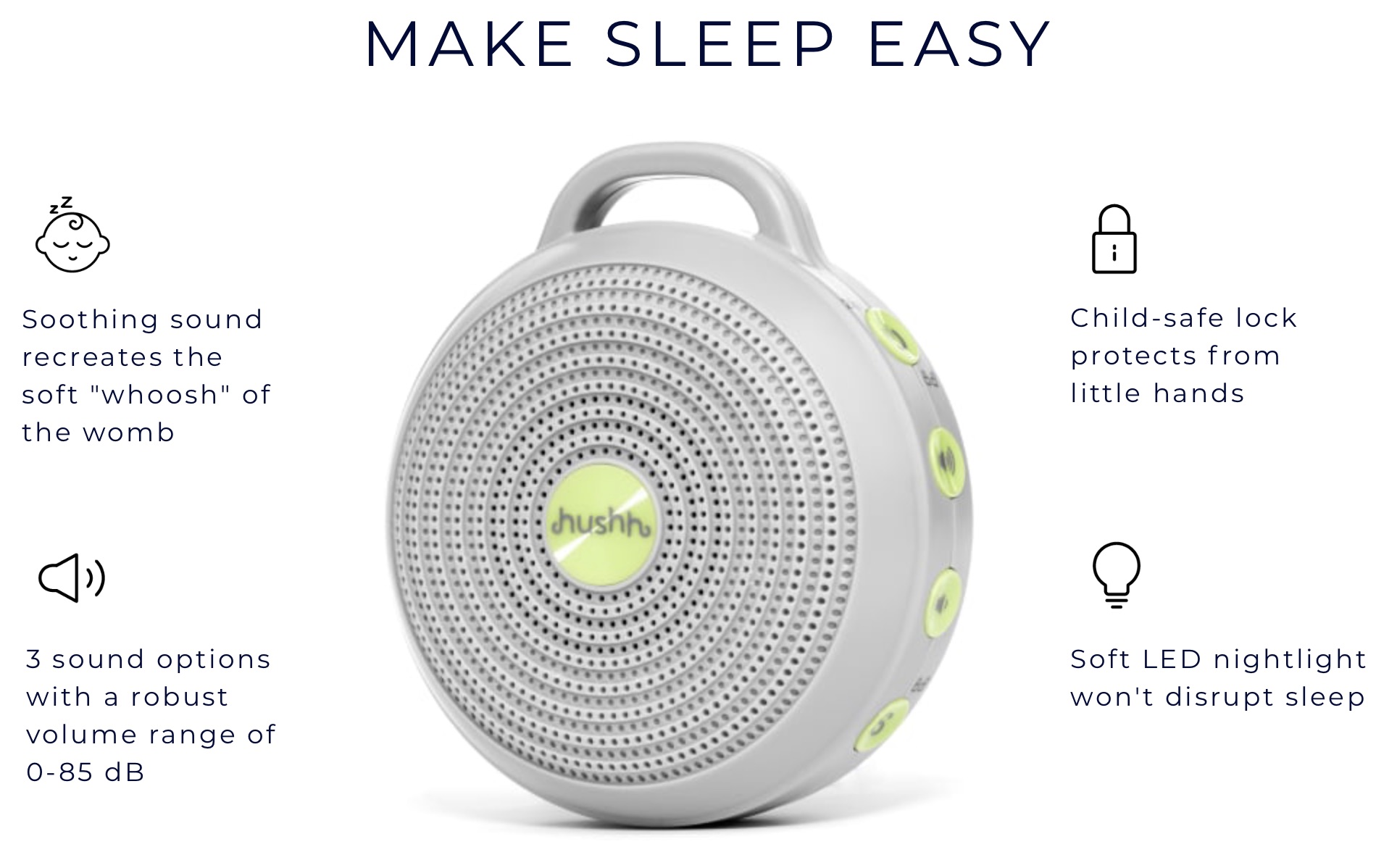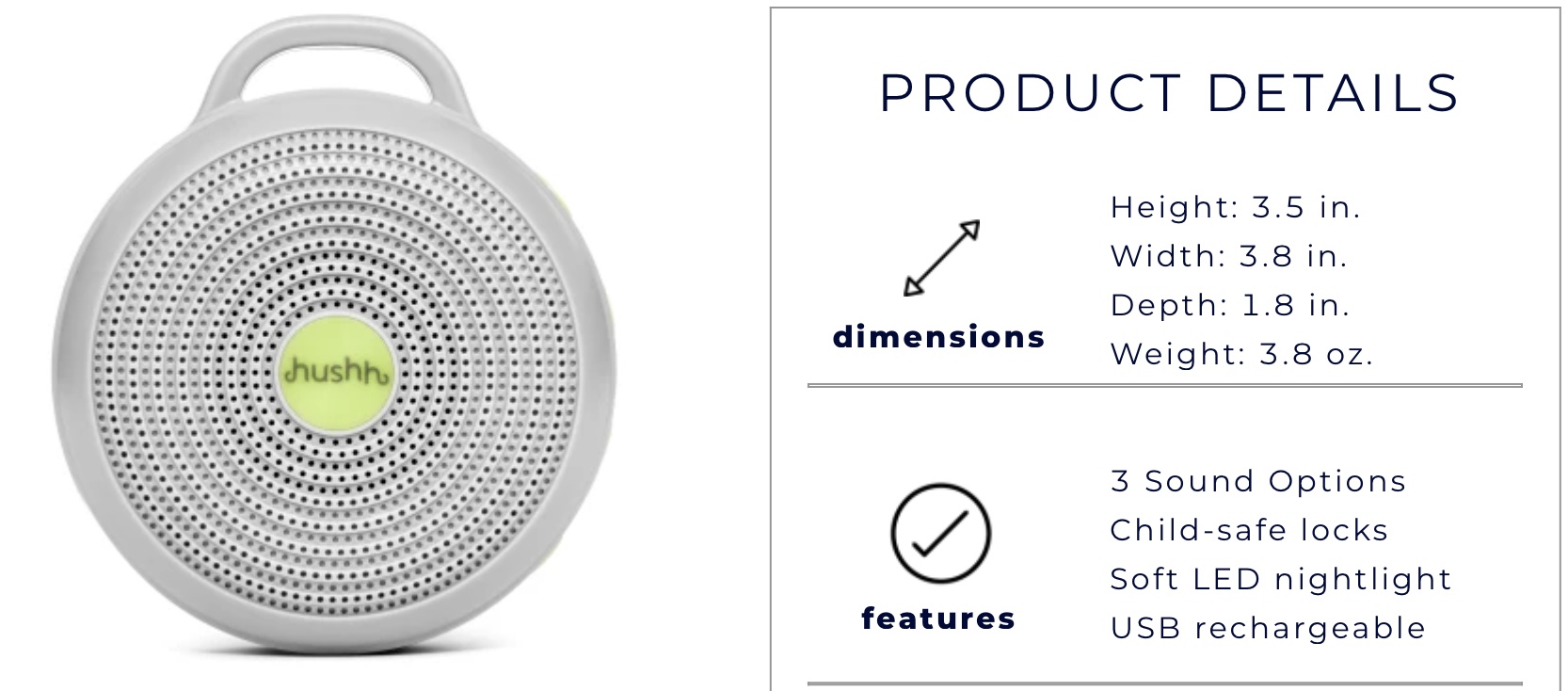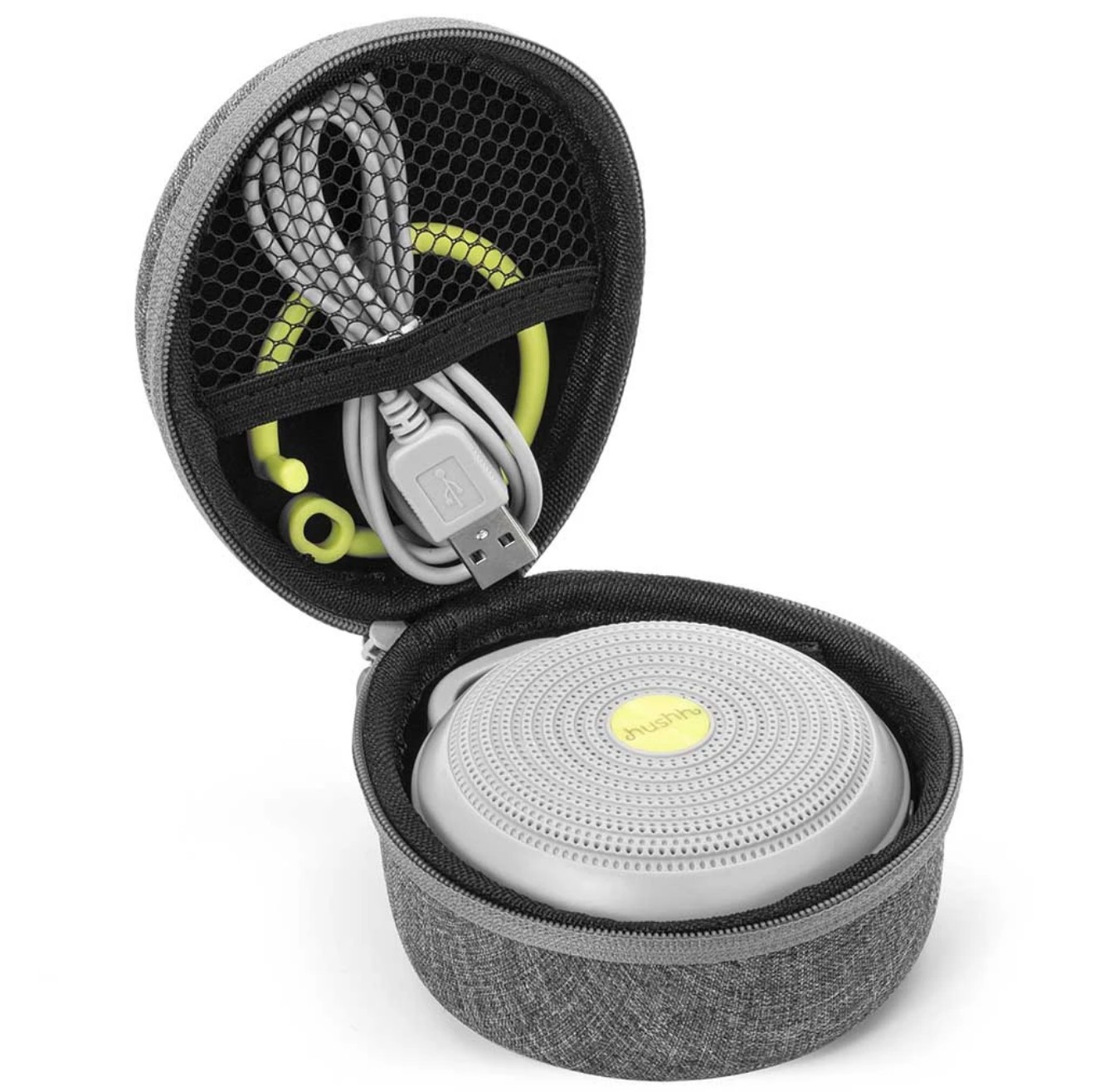 Yogalseep Hushh Travel Case sold separately. Purchase

HERE
Warranty: Local Distributor Warranty of 30 days from date of purchase

Note:
This warranty does not cover damaged caused by accidental dropping, rough handling or misuse of the product, including tampering or the application of electrical power other than that listed on the label.

The warranty period starts at the time of products original purchase by the first end-user.
There is no local repair services for units past the warranty period.
This limited warranty period will not be extended or renewed or otherwise affected due to subsequent resale, repair and replacement of Product.
Please keep the box, the manual and the receipt to expedite processing during the warranty period. The responsibility of the Local Distributor only extends to items within the warranty period.
Do not remove the serial number on the unit. We keep record of the serial number. It needs to match with the unit.
Yogasleep Hushh Travel Case can't be returned if Yogasleep Hushh is returned or exchanged for whatever reason.