For this item, Shipping Rate upon check out is only applicable for Metro Manila.
For provincial customers, please message us at customerservice@milkandhoney.ph before placing your order as different cargo rates will apply.
uPang is Korea's #1 best-selling UV sterilizer brand with 8 out of 10 brand preference among Korean moms. It is the world pioneer in UV sterilizers and is a winner of 4 consecutive Korea Customer Preference 1st Brand Awards. Approved and tested by the US FDA, uPang eliminates 99.9% of harmful germs and bacteria using its dual Philips UV lights in baby bottles, nipples, breast pump parts, plates & utensils, toys and even gadgets like remotes and mobile phones.
Fully tested and certified by the US Food and Drug Administration and six other health organizations of the world, uPang can eliminate 99.9% of harmful germs and bacteria like Escherichia Coli, Staphylococcus Aureus, Salmonella Typhimurium, Pseudomonas Aeruginosa through its Philips UV Technology. Each unit is equipped with Dual Philips UV Lights for maximum germ killing power.
For drying, uPang makes use of Infrared to ensure a constant drying temperature of 40 degrees Celsius to protect from leaching of hazardous substances that occur when items are exposed to high temperatures.
Each unit comes with an upper stainless steel rack and a lower stainless steel basket.
Aside from sterilizing baby bottles, uPang can also be used to sterilize toys, toothbrushes, cutleries, plastic containers and even gadgets like cellular phones and remote controls.
WHY USE UPANG?
Korea's #1 best selling UV sterilizer brand, certified by US FDA and 6 other world health organizations

Eliminate 99.9% of germs and bacteria using uPang's dual PHILIPS UV lamps

No overheating of items with its controlled low drying temperature of 40C using Infrared

Waterless cleaning and drying – no risk of burns or spills

Versatile – can be used to sterilize a lot of items from bottles to toys and even gadgets

Compact and light yet still fits an average of 12 bottles plus accessories

Saves energy with its low electrical consumption of 35W
Product Specs:
Dual PHILIPS UV lamps with Infrared bulb

Holds an average of 12 bottles plus accessories

Auto shut off once cycle is complete or door is opened

Interior body is made of High Quality Super Mirror Stainless Steel

Door material is made of UV High Reflective Glass Panel

Made in Korea
Functions Available:
Auto (40mins): Commonly used for items that need to be sterilized and dried such as baby bottles, dishes, cups, etc. This function is a complete cycle that dries via infrared, sterilizes via UV lights and ventilates for the removal of odor.

UV Sterilization (10mins): Used when drying is not required. Usually used for sterilization of dry objects like remotes, phones, toys, teethers, clothes, toothbrush.

Ventilation (10mins): A natural ventilation system that removes odor and bacteria.
Dimensions: 290w x 320d x 380h mm, 4.35kg
Colors available: Blue, Yellow, Green
Voltage: 220V
Warranty: 1 year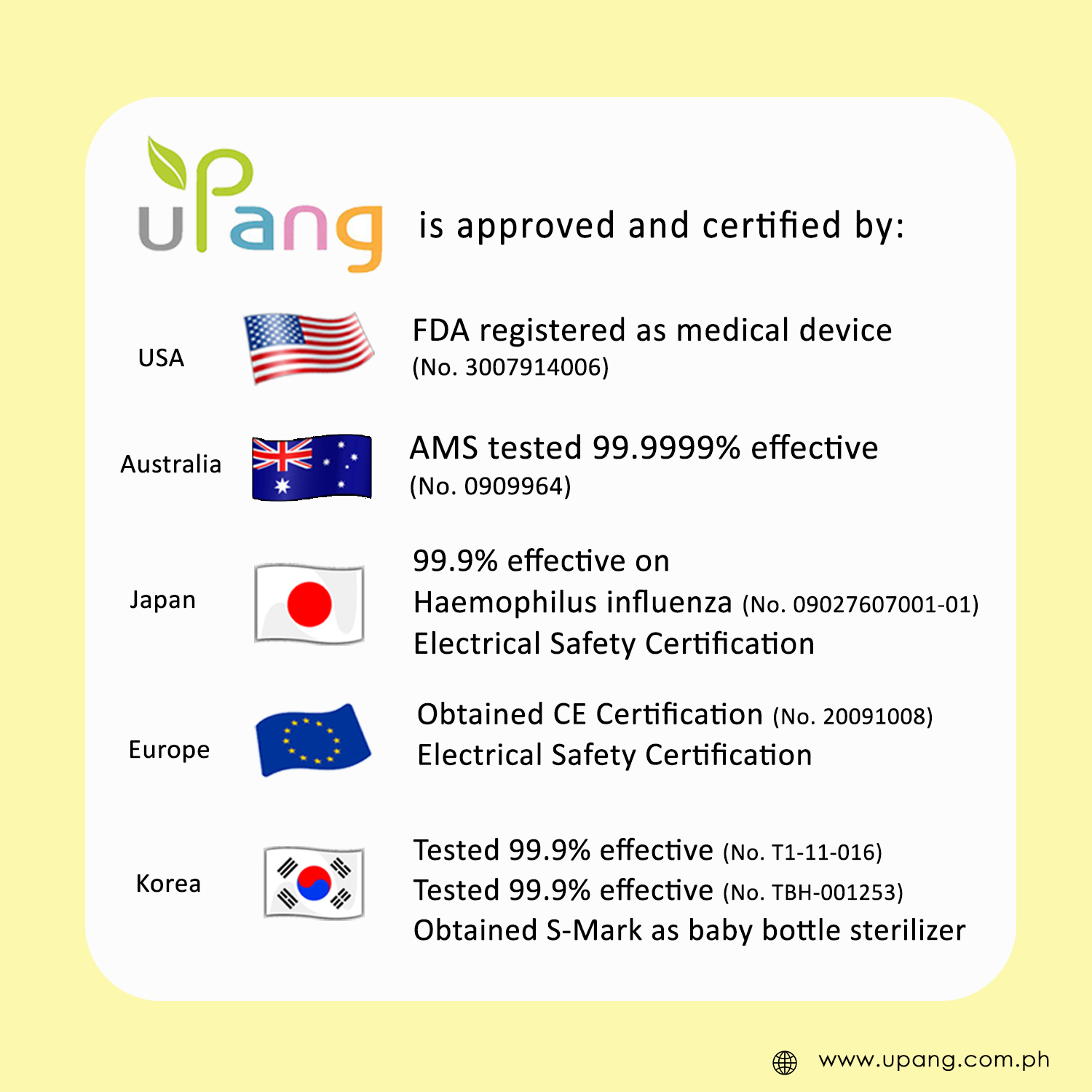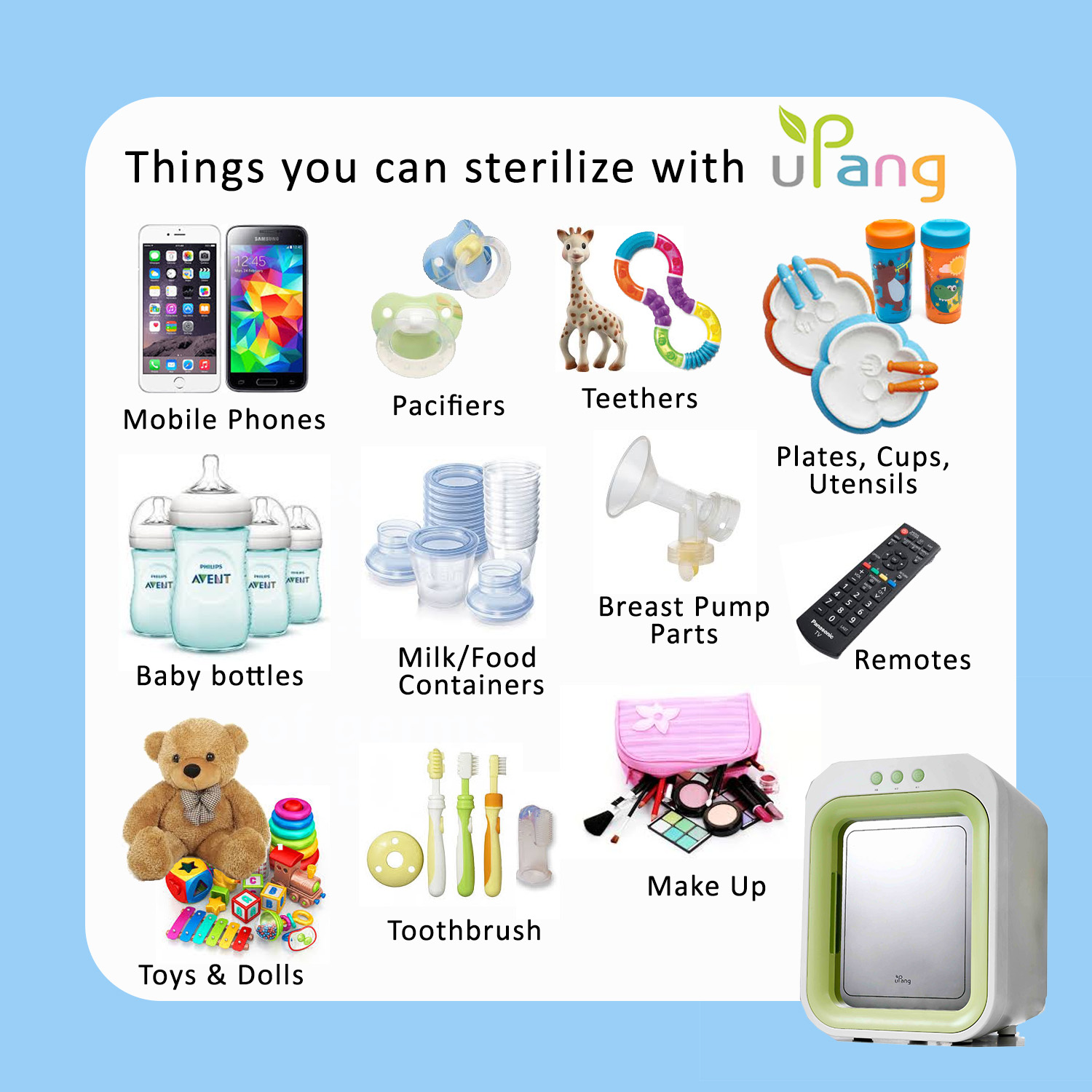 Shipping Cost per Unit Classification: Tier 3
Please refer to Terms of Service to see how total shipping fee is computed.