Moonlite is a simple, magical little device that allows you to project your child's favorite storybooks, right from your phone or tablet! With vivid projections, sound effects and background music, storybooks come to life and turn into a magical experience.
Storytime is a time that bonds children and parents and creates forever memories that are passed on generation to generation. Hear from real parents how Moonlite adds to this timeless tradition in a new and engaging way.
Moonlite combines traditional storybooks with modern technology to make reading fun for your little ones. With HD projections, sound effects, read-a-long features and more it transforms storytime into a magical event that both children and parents look forward to.
The Moonlite Starter Pack - Eric Carle includes 1 Moonlite Projector and 2 Moonlite Story Reels (The Very Hungry Caterpillar and The Very Busy Spider)
How It Works:
1. Simply pop a story reel into the Moonlite Projector: Slide one of our many children's best-selling story reels into the Moonlite projector
2. Attach Moonlite onto your phone: Our universal clip supports over 90% of mobile devices
3. Open the Moonlite App (available for download from the Apple App Store and Google Play Store): Open the Moonlite app to begin the magical reading experience
4. Begin projecting vivid storybook images
Find Out More About Moonlite:
1. Flip the Moonlite projector over. To activate the nanosuction material on the backside of the Moonlite projector, you will need to peel off the protective film. It is indicated with an arrow on the back side of your projector. The nanosuction material is what helps keep your Moonlite stay attached to your phone.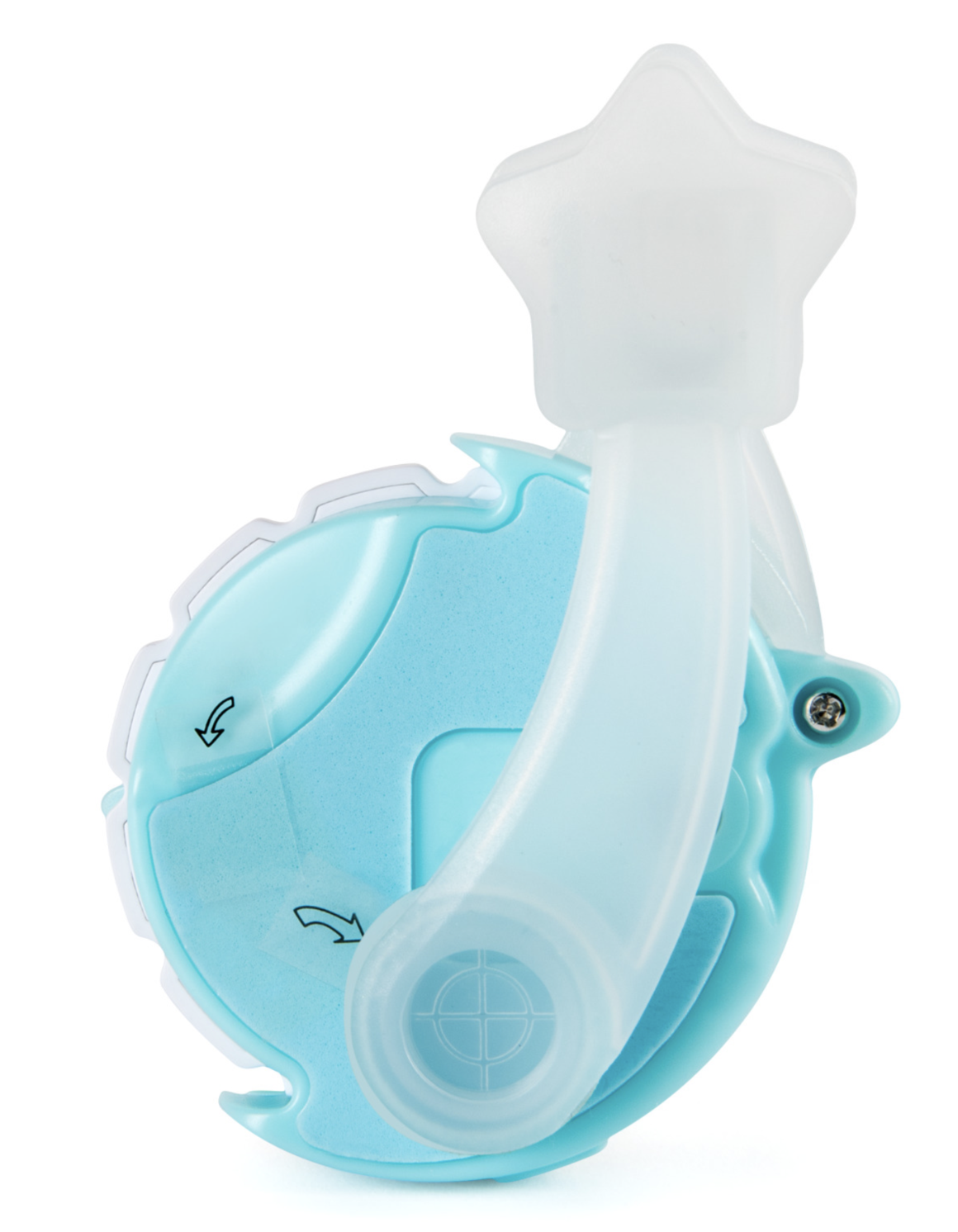 2. Get the activation code card from your package. You will need this to unlock the stories within the Moonlite app. Did you know? The Moonlite package was designed to be reusable and to be used as a storage case for your Moonlite and accessories.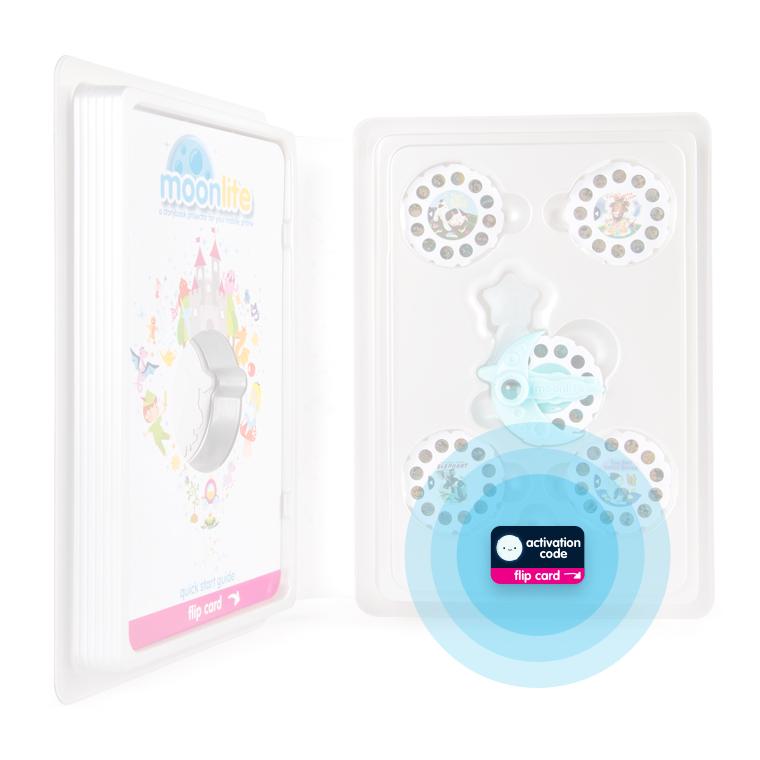 3. Key Parts of Moonlite: Moonlite is simple to use. Let's get to know the parts. On the front side of the projector you will find the lens. Turn this clockwise or counterclockwise to focus your image.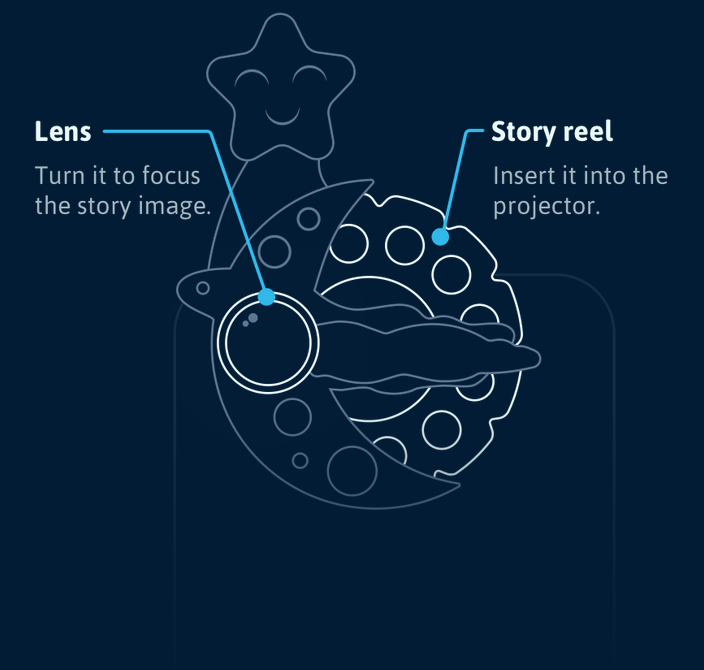 4. Meet the Universal Clip: Our clip was designed to work with 90% of smartphones. On the backside of the clip you will find a bullseye. You will use this bullseye to line up your Moonlite projector to the flashlight. We will explain this further down.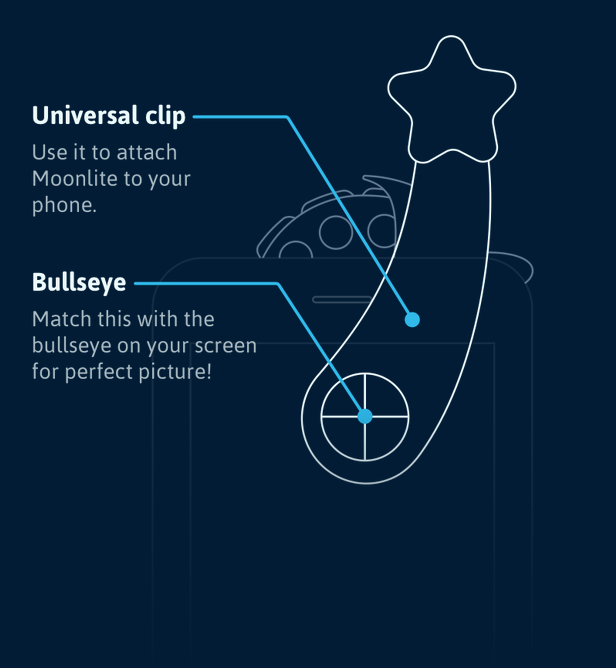 5.Download the Moonlite App from the Apple App Store or from the Google Play Store: Visit the Google Play or Apple app store to download the Moonlite app.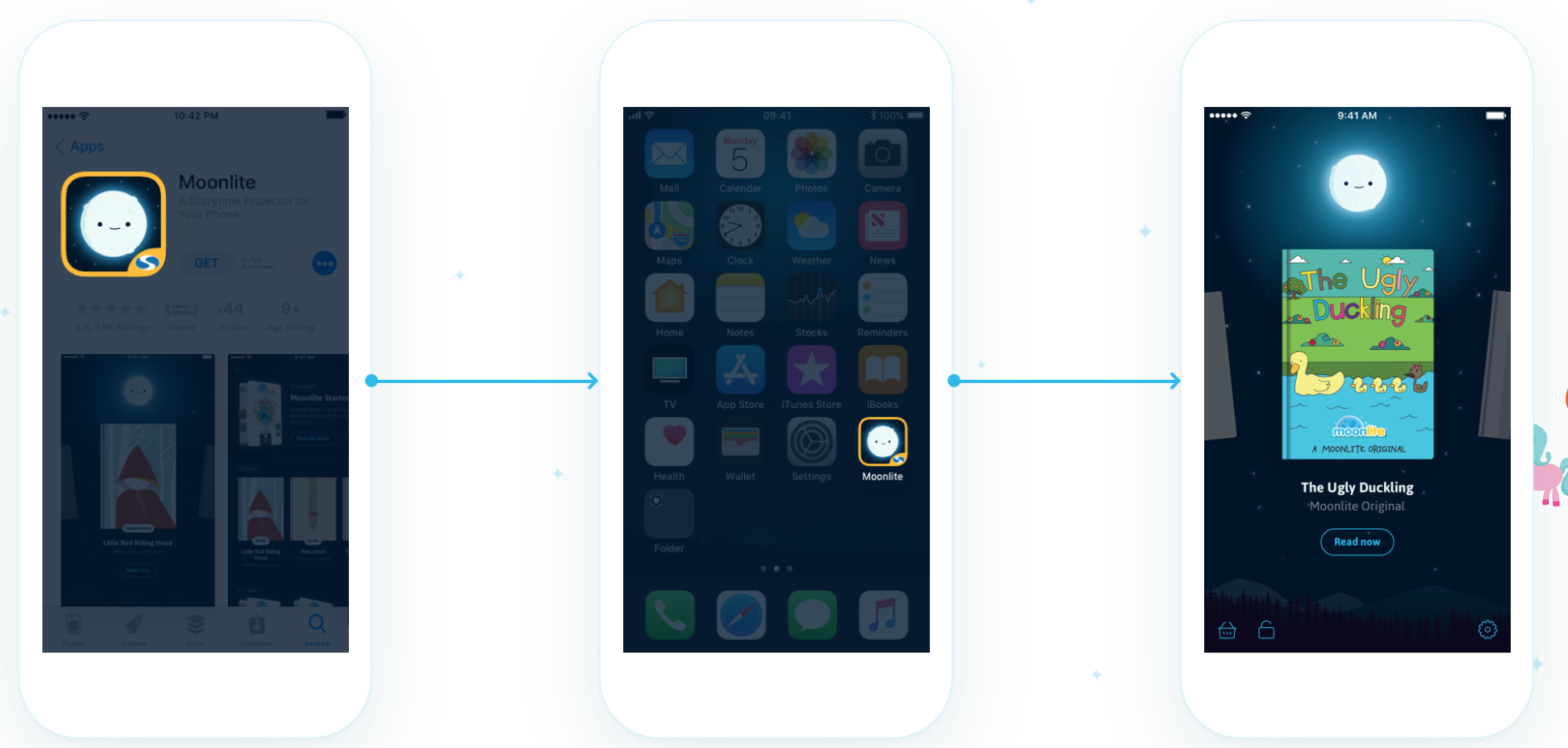 6. Unlock stories in the app: To unlock your stories within the app, flip over your activation code card to get your unique unlock code. Within the Moonlite app, press the unlock icon on the bottom, left-hand side of the screen. Enter in your 10-digit code to unlock your stories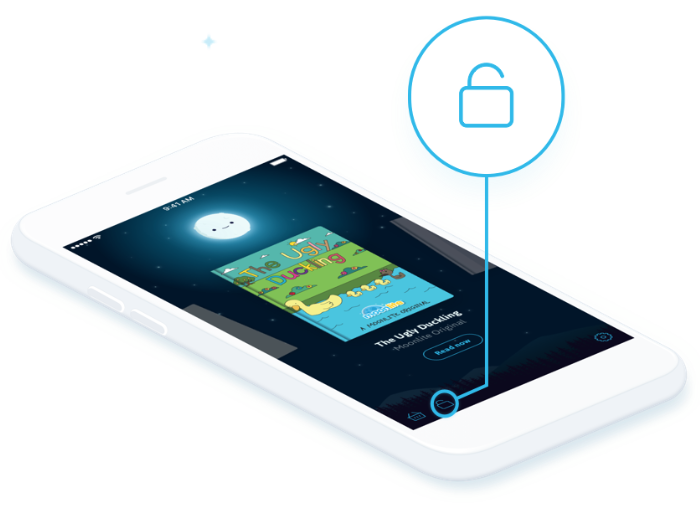 7. Insert a story reel into the Moonlite: The story reels easily slide into the Moonlite projector. There is an arrow on every story reel, indicating the story's first image. Insert the story reel with the arrow pointed towards the lens. There is also a moon-shaped pattern on every reel. This pattern should be completely hidden by the moon on the projector.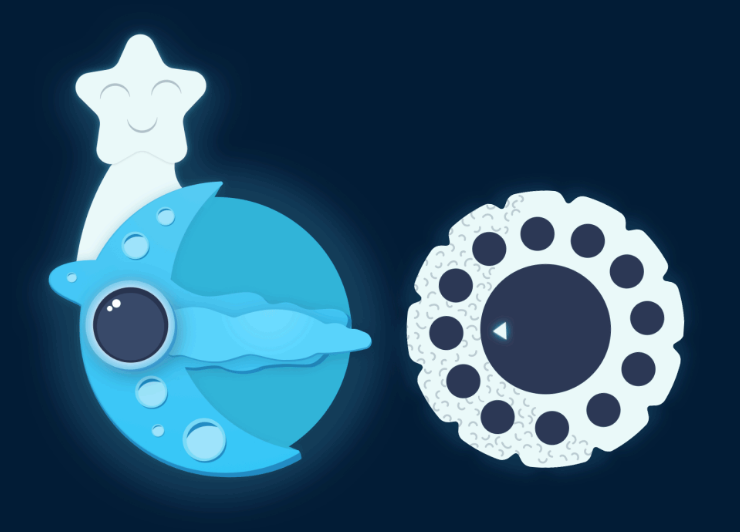 8. Ciip Moonlite onto your phone: Moonlite sits right over the flashlight of your phone. To align it perfectly to your phone's flashlight, open up a story within the Moonlite app. You will see a pulsing bullseye. Line up the bullseye on the back-side of your clip to the one on the screen of your phone. And voila - now you are projecting! If you see a blurry image while projecting, please be sure to turn the lens barrel clockwise or counterclockwise until you see a clear image.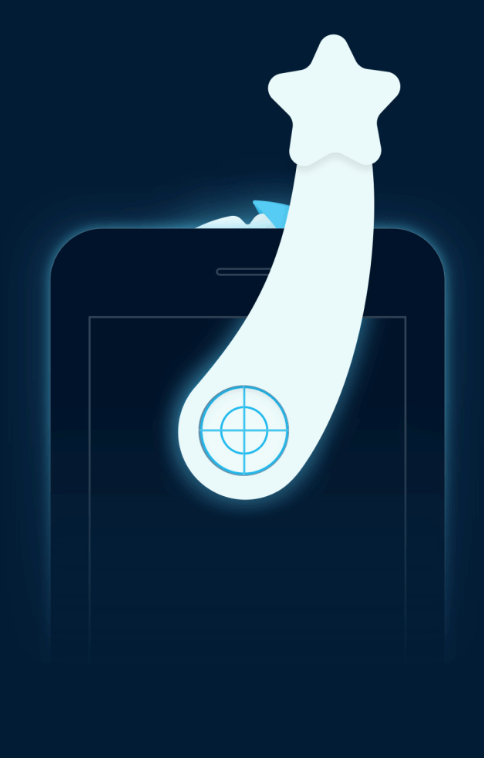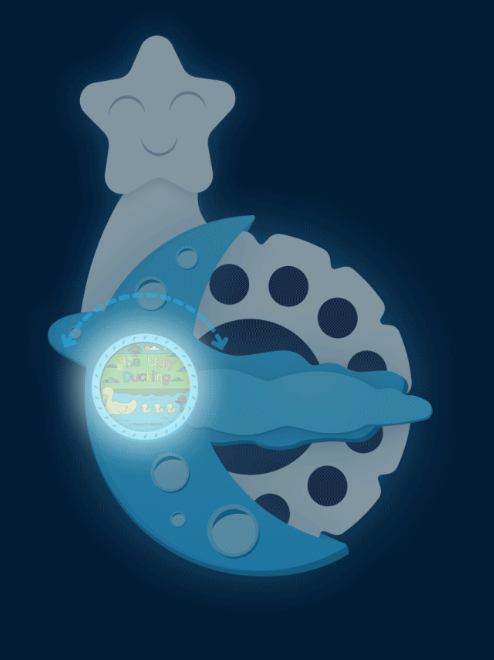 9. Be sure that the projected images matches the image on the app: When you open a story in the Moonlite app, you will see a 'starter image.' This image is the first storybook image. Make sure you are projecting this image BEFORE you begin reading.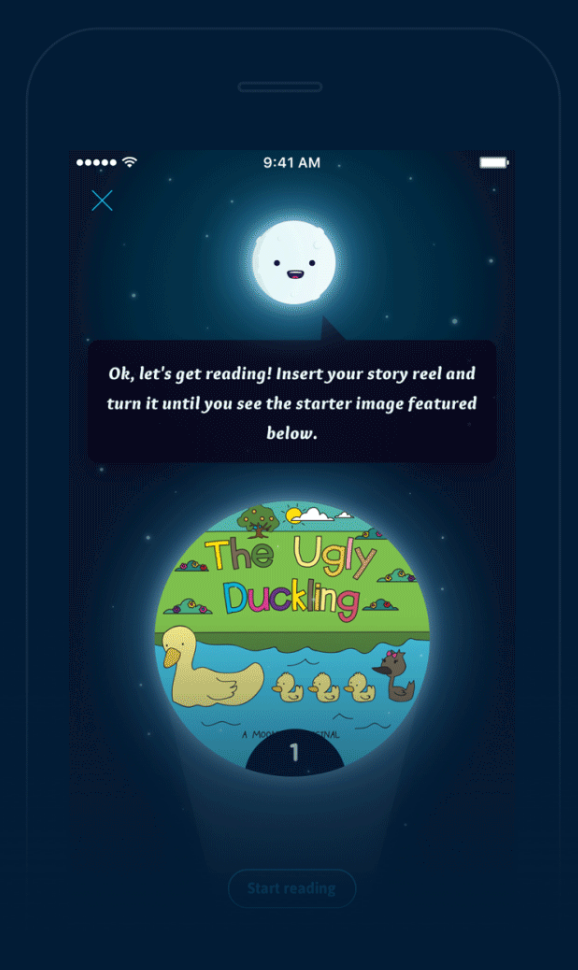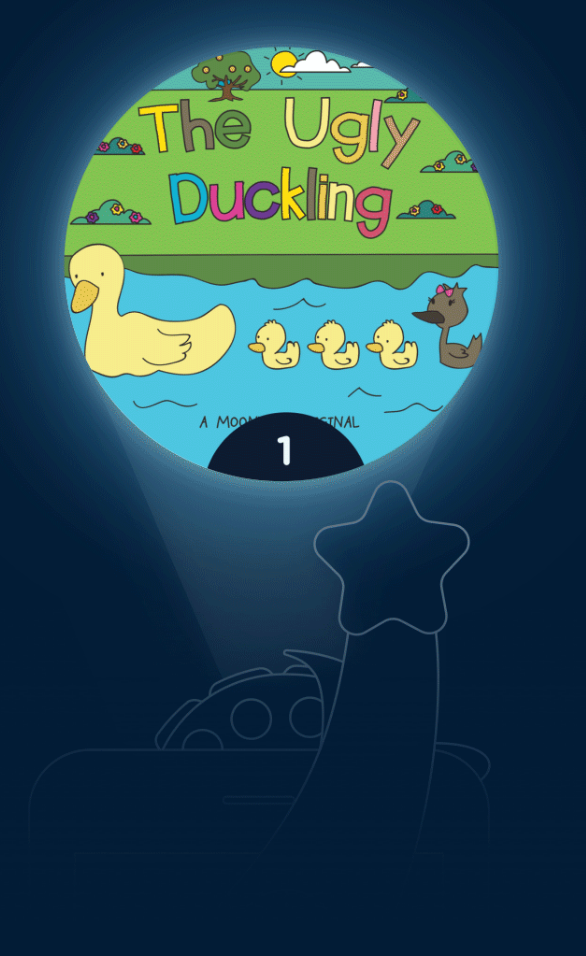 10. Turn the reel and swipe the page: To advance in the story, turn the reel counterclockwise and swipe left on the screen of your phone. After you turn the story reel, you will need to swipe the page on screen to continue reading. You will always see a note at the bottom of every page reminding you to swipe the screen to continue reading. We designed Moonlite to be soothing and calming, which is why we operate in nightshift mode. If you would like to turn Nightshift mode on/off, just click the light icon on the bottom left within any story.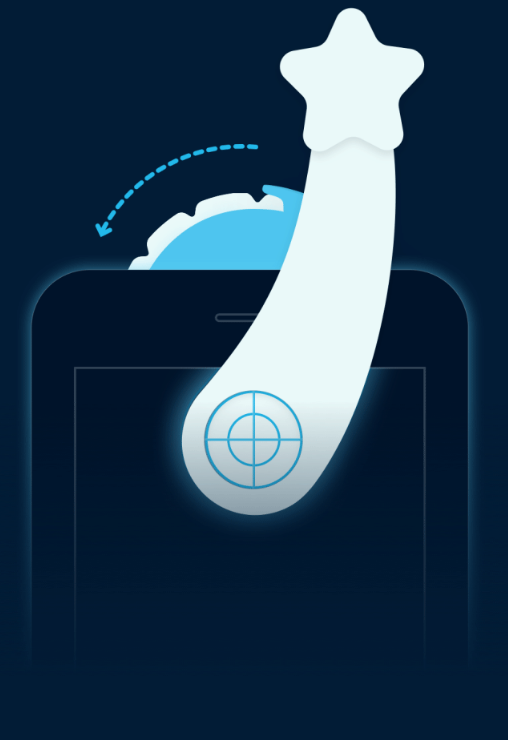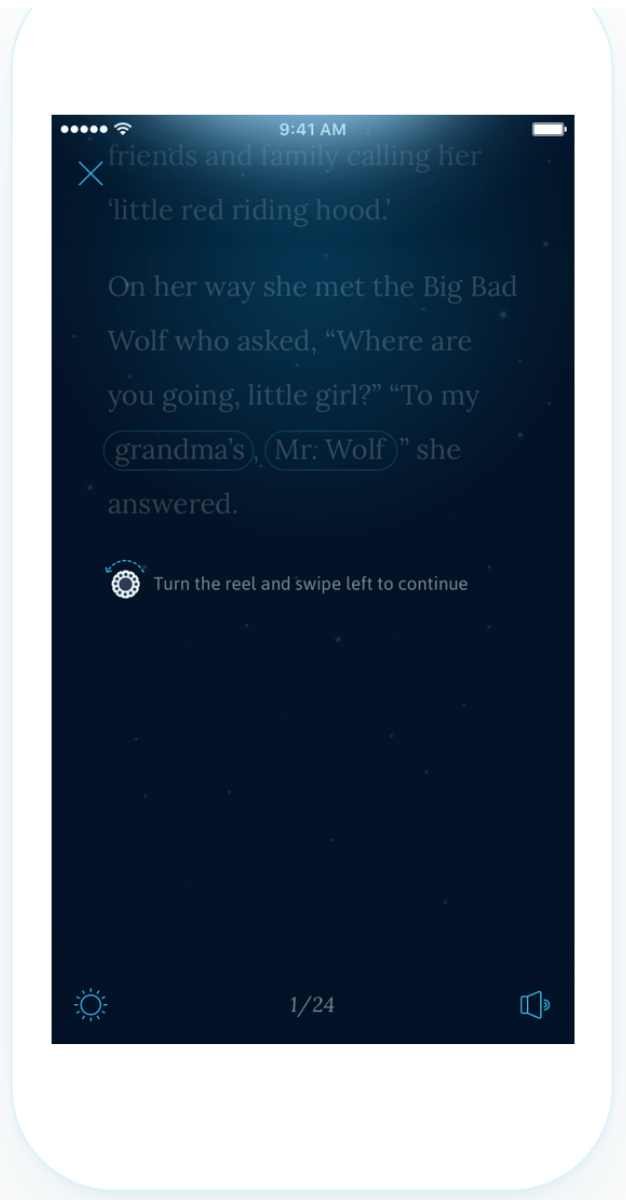 Compatible Devices:
iOS
iPhone 5
iPhone 5s
iPhone 6
iPhone 6s
iPhone 6 Plus
iPhone 6s Plus
iPhone SE
iPhone 7
iPhone 7 Plus
iPhone 8
iPhone 8 Plus
iPhone X
iPhone XR
iPhone XS
iPhone XS Max
Iphone 11
Iphone 11 Pro
Iphone 11 Pro Max
Android:
Google Nexus 5X
Google Nexus 6
Google Pixel
Google Pixel XL
Google Pixel 2
Google Pixel 2 XL
Google Pixel 3
Google Pixel 3 XL
HTC One
OnePlus One
One Plus 3
One Plus 3T
HTC One M7
HTC One M8
HTC One M9
LG G4
LG G5
LG G6
LG G7
Motorola Droid
Samsung Galaxy A5
Samsung Galaxy Core Prime
Samsung Galaxy J3
Samsung Galaxy J5
Samsung Galaxy Note 4
Samsung Galaxy Note 5
Samsung Galaxy Note 8
Samsung Galaxy Note 9
Samsung Galaxy S5
Samsung Galaxy S6
Samsung Galaxy S6 Edge
Samsung Galaxy S7
Samsung Galaxy S7 Edge
Samsung Galaxy S8
Samsung Galaxy S8+
Samsung Galaxy S9
Samsung Galaxy S9+
Samsung Galaxy S10
Samsung Galaxy S10+
Shipping Cost per Unit Classification: Tier 1
Please refer to Terms of Service to see how total shipping fee is computed.
OFFICIAL MOONLITE VIDEO
UNBOXING: WHAT'S INCLUDED
HOW TO INSERT A STORY REEL
HOW TO ATTACH MOONLITE ONTO YOUR PHONE
HOW TO UNLOCK STORIES IN THE MOONLITE APP
HOW TO FOCUS THE IMAGE