FEATURES:
4G VOICE CALL / VIDEO CALL / MESSAGING:
Supports 4G LTE and allows real time communication with parents' smartphones and other contacts. Do leave some voice messages and emojies to your loved ones
REAL TIME GPS TRACKING:
R1s uses advanced GPS, Wifi and GSM to help parents acurately and conveniently track their Kids. Your child's travel history will be recorded at each set time
MP3 ON THE GO:
Equipped with an MP3 player, You can enjoy music and audiobooks wirelessly or listen to it loud wit hthe built-in speaker
ADD FRIEND FUNCTION:
You can add friends by tapping the add friend button. You can use functions such as calling and voice message to the added friend.
ONE TOUCH SOS:
Send distress signals through an integrated SOS button. Once activated, parents will receive an emergency location alert with 30 seconds live recording of surrounding sounds.
SAFE ZONE FUNCTION:
Keep your child within 200m from the boundaries of your preselected area. Preset safety zones for your kids by highlighting geo-locations in the iOS or Android app. Multiple safe zone areas such as school and house can be registered.
REMOVAL DETECT:
A motion sensor is mounted on the back of the device to prevent children from losing the decive. Parents will be alerted if the R1s is removed from the child's wrist.
FORBIDDEN SHUT DOWN:
To prevent crime or accidental watch operation by children, parents can turn off the power on getting the watch shut down manually
QUICK RELEASE MECHANISM:
Just a quick slide from the strap, parents can change the broken strap easily while create unique looks for your kids' watch BUY HERE
HEART RATE MONITORING WITH HEART RATE ALERT:
Parents can set the high heart rate alert in the application remotely and once the R1s detected kid is running, it will auto-detect the heart rate and will alert the user to slow down if exceeded beats per minute set by parents.
CUSTOMIZABLE WATCH FACE WITH FUN ANIMATED WALLPAPER:
Preset with a selection of new animated wallpaper. If you don;t like the new animated wallpaper, try to customize your own watch face with your selfie or photos sent from others in the chat room
FITNESS GOAL ACHIEVEMENT:
The activity tracker shows your achievement and encourages the young one to achieve their daily target. Rewards with unique badges
MINIMISE DISTRACTION WITH CLASS MODE:
R1s can be silenced at a specified time or day to minimize distractions during class. Only SOS can be used upon activation. A great feature to let kids stay focused on their school work or studies.
PERSONALIZED ALARM SOUND:
A new way to set up the reminder or alarm ring tone, train kis to remind themselves by adding the voice message as the alarm or reminder. Parents can also set up the wake-up call or alarm by using their own customized recorded voice message.
iOS & ANDROID COMPATIBLE:
myFirst Fone mobile app is compatible with iOS and Android devices. The myFirst Fone app allows parents to remotely access information on their kid's watch phone with full parental control.
TECHNICAL DETAILS:
1.3 inch TFT round screen with Capacitive touch
Language Supports: English, Chinese (Simplified), Chinese (Traditional), Japanese, Korean, Svenska, Norsk, Suomi, Dansk
2MP front camera
Battery Capability: 580 mAh
Operational Talk Mode Time: 6 hours
USB Charging: 5V, 1A
Storage: 8GB
Product Weight: 53g
NANO SIM card (not included. Compatible with all Philippine postpaid and prepaid mobile networks)
4G calls (making and receiving) and GPS tracking require data subscription
Regular phone calls (making) require load (for prepaid accounts)
Positioning: Wi-Fi, GPS, A-GPS
Wireless Connectivity: GSM, WCDMA, WiFi, GPS
App Supports iOS 10.0 & Android 5.0 above
Easily change straps and mix and match them up for a more fashionable watch.

BUY HERE

Tempered Glass Screen Protector sold separately.

BUY HERE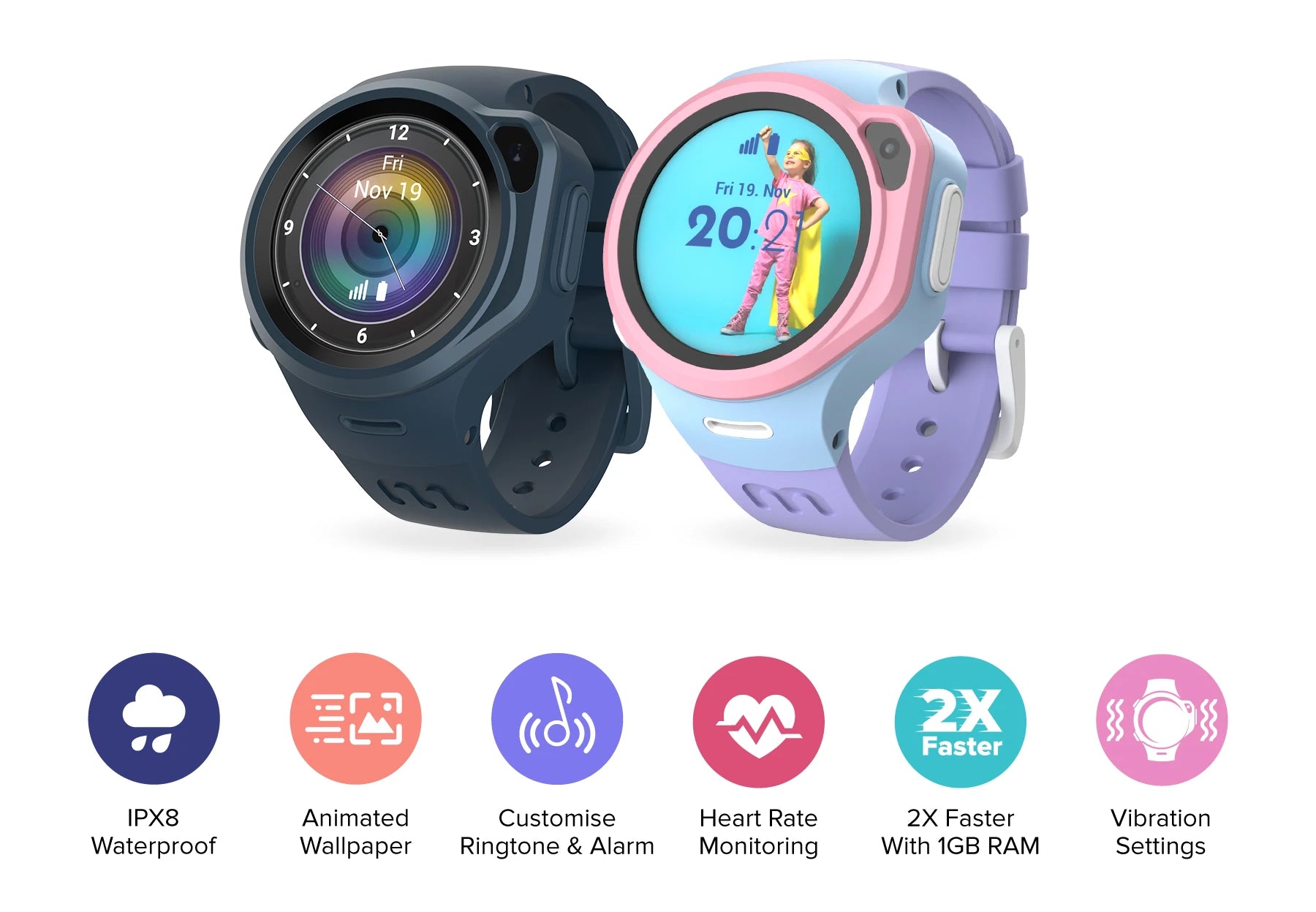 NOTE:
* This model is only compatible in Asia, Europe, Australia and the Middle East regions.
** NOT compatible in North America (United States, Mexico, Canada, Guatemala, Cuba, Haiti, Dominican Republic, Honduras, Nicaragua, El Salvador). The production of the model for the North America region is currently on hold until further notice